This page is currently under construction.
Please help us expand this article by editing it.
Midge Midge (うずまき, Uzumaki) is a normal bird villager in the Animal Crossing series. Her name might be a reference to the insect midge which many birds feed on. Her Japanese name means Spiral, referencing the spiral design on her cheeks. Her catchphrase, tweedledee, is a play on the Alice in Wonderland character, Tweedledee and the noise small birds make, tweet.Edit
Appearance
Edit
Midge is a pink and white bird, with a long, thin, yellow beak. She has yellow swirl pattens on her cheeks and she carries a daffodil umbrella when it rains. Her eyes are dots with a single eyelash on each one. She wears a New Spring Shirt as her initial look. She has a white stomach and orange feet.
Personality
Edit
-Normal- The normal personality is a mixture of the different personalities combined. Midge will normally appear sweet, but may become upset at times.
The items in Midge's house consist of:
Kiddie Wallpaper, Kiddie Carpet.
K.K. Lullaby
Smoke: Fish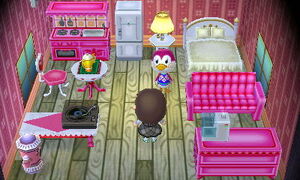 | | | |
| --- | --- | --- |
| | Warning: Spoilers ahoy. Read at your own risk. | |
Coffee Preference
Edit
| Beans | Milk | Sugar |
| --- | --- | --- |
| Blend | Lots | 3 Spoonfuls |
Ad blocker interference detected!
Wikia is a free-to-use site that makes money from advertising. We have a modified experience for viewers using ad blockers

Wikia is not accessible if you've made further modifications. Remove the custom ad blocker rule(s) and the page will load as expected.