This page is currently under construction.
Please help us expand this article by editing it.
Gyroids are furniture-like items that, when activated, will produce various sounds based on their category and size. The player can have up to four gyroids activated in one room. They can be found buried underground, and are far more common after it snows or rains.
Gyroid categories (Families)
Edit
Strumboid
Uses outside of the home
Edit
The Roost: Once the player warms up to Brewster enough, he will allow the player to store one type of each gyroid at his cafe. Simply talk to him with a gyroid in the player's inventory, and he will store it. The player can retrieve these at any time.
Club LOL: One can replace the four gyroids on stage with four of the player's own choice, when DJ KK is not performing. DJ KK will then use the gyroids for his next performance.
Real Life
Edit
Haniwa (埴輪) are Japanese clay figurines that were buried with the dead during the Kofun period (200 to 500 AD). Haniwa were designed to look like all sorts of creatures, as well as humans (mainly dresses as warriors). Some are very simplistic in design, others extremely detailed. Gyroids are based off of slightly humanoid and wavy-armed Haniwa figures. The long wavy arms are a common theme among these sculptures, and this attribute carried over to the gyroids (just look at Lloid when you stand close to him!)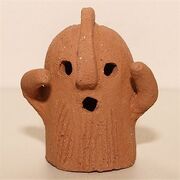 Ad blocker interference detected!
Wikia is a free-to-use site that makes money from advertising. We have a modified experience for viewers using ad blockers

Wikia is not accessible if you've made further modifications. Remove the custom ad blocker rule(s) and the page will load as expected.