New Leaf features more buildings than ever before, and with so many options and upgrades, there will always be something new to look forward to.
The Town is the area of land south of the Train Tracks where residents (players and villagers) live.
Main Street
Edit
Main article: Main Street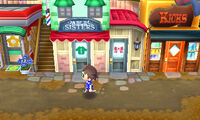 Main Street is the area across the Train Tracks from the Town proper. There are many shops and services here, from clothing stores to a hair salon to a photo booth.
Ad blocker interference detected!
Wikia is a free-to-use site that makes money from advertising. We have a modified experience for viewers using ad blockers

Wikia is not accessible if you've made further modifications. Remove the custom ad blocker rule(s) and the page will load as expected.