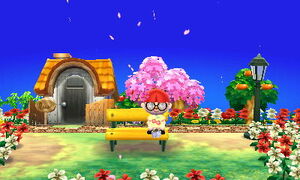 April is a month in spring. Expect to see your town burst into life with cherry blossoms, and your grass and leaves becoming a more vibrant green! 
April Fools' Day (April 1) - How well do you know your villagers? Blanca will appear in your town to play a guessing game with you. Determine the real villagers from the fake and you can earn their portraits!
Cherry Blossoms (April 1 to April 10) - Enjoy some cherry blossom viewing in your town! In this time period, your non-fruit, non-pine, non-palm trees will be pink in color. Between April 7th and April 10th, they will float through the air like a weather-effect.
Arbor Day (April 5)  - Go out and plant some trees today! Head over to the event plaza to get a Hibiscus from Isabelle.
Plant Color Change (April 6) - The grass and leaves will change color today. Looks like the warmer months are here!
Earth Day (April 22)  - Celebrate the beautiful world we live in! If you drop by the event plaza before midnight, Isabelle will give you a Cool Globe item for your home.
Fishing Tourney (Second Saturday) - This event occurs on the second Saturday of the month, and runs from 9am to 6pm. This is the only way to obtain the Fish Series.
Weeding Day (Last Friday)   - Lief's will be closed today! If you pulled all the weeds in your town on the previous day, Lief will award you with a special topiary in your Public Works Projects at the event plaza. If you pull 30+ weeds in your town or another town, you will be awarded with an exclusive item from Lief.
Italics signify new fish this month. Bold signifies fish that don't appear next month. This list excludes year-round fish.
Italics signify new bugs this month. Bold signifies bugs that don't appear next month. This list excludes year-round bugs.
Deep-Sea Creatures
Edit
Italics signify new deep-sea creatures this month. Bold signifies deep-sea creatures that don't appear next month. This list excludes year-round deep-sea creatures.
Ad blocker interference detected!
Wikia is a free-to-use site that makes money from advertising. We have a modified experience for viewers using ad blockers

Wikia is not accessible if you've made further modifications. Remove the custom ad blocker rule(s) and the page will load as expected.